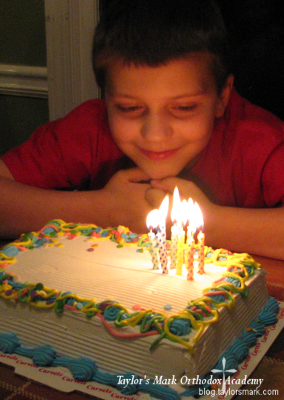 Our Jr. is nine! My goodness, how time flies! Funny story about Patrick's birth…the midwife assumed when I called that I couldn't possibly be in labor because I was too calm.

I thought calm was a good thing, but, in this case, it wasn't – the hospital staff left me so long before checking me that I was completely dilated – too late for an epidural.

I walked down the hall to the delivery room and had a baby within minutes. Hard way to learn a lesson, but what a truly brilliant result – Patrick Taylor, Jr. Thanks for the tremendous blessing, O Lord!
Dad and I bought Patrick a new bike for his birthday. He loves it! He also got a nifty Lego set from Miss Susan and the gang, and money from both sets of grandparents, part of which he used to buy a really cool airgun.

Boy's dream come true…