Who Is God? Is the first of four books in Apologia's What We Believe apologetics series. The book is meant for children from ages 6 to 14 and is a wonderful resource for this age group.
Who Is God? Teaches Christian worldview in a kid and parent friendly way. There are 10 lessons in the book as well as some practical helps on using the book with your own children. Each lesson presents a "Big Idea" about who God is and why we should care who He is.
The main thing I like about this book is God's timing – it's always perfect! We are struggling with one of our children and their worldview, and this book has served as a great reminder to really help all of our children to develop a Christian worldview from the time they are born. Worldview is so very important and necessary for a strong foundation, which, coincidentally, is what the very first lesson is about. I am going to take you through the first lesson since you can download a copy of it for free from the Apologia website. First I will present a collage of all the pages and then I'll tell you what they all mean.

The fist section of the book is a tremendously helpful parent guide. The guide explains worldview and why it's so very important. The guide also explains how to use the book with your children – how to ensure that you set aside time to complete all the discussions and activities included in each lesson. The recommended pace is approximately 2 weeks per lesson with 3 sessions per week, so six sessions per lesson. You of course can adjust this however you may need to make it work for your family. Each lesson is made up of the same basic components, and a schedule is recommended that divides the different parts of each lesson over the six sessions in two weeks.
So what is actually included in each lesson? Are my kids going to want to do this? Is there extra help for parents? Included in each lesson are the following sections: The Big Idea, What You Will Do, Short Story, Think About It, Words You Need to Know, Hide It in Your Heart, Integrated Learning, What Should I Do?, Prayer, Worldview Study, and House of Truth. The Short Story sections introduce and illustrate important concepts through fictional narrative. The Hide It in Your Heart section is a pair of bible verses for memorization. The activities are fun and the discussions are absolutely terrific! Each child is also encouraged to keep a notebook on what they are learning based on their ability – young ones are encouraged to illustrate their lessons while older students are encourage to notebook about the topics they study.
Your kids are going to want to do this. The activities are simple and illustrate the Big Idea of the lesson in an way that is easy to grasp. Again, it's easily adaptable to your family needs, including adaptations for varying ages. The kids will enjoy the activities and the great discussions with mom and dad. And it's so important to develop that Christian worldview early in your child's life – before they get out into the world and are exposed to (okay, bombarded by/beat over the head with/ridiculed for not holding to) the secular worldview.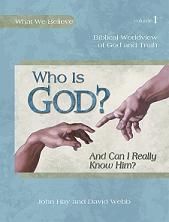 This is such a great book and I am anxious to see the next 3 books in the series. You may purchase the books directly from Apologia. Each book is priced at $39 and you don't need a teacher text. Parent helps are available on the Apologia website; instructions for downloading them are included in the book. Samples of each book are also available from the Apologia site. I'm thinking I need to put together some really attractive notebooking pages to go along with each lesson and the discussion questions! Hmmmm…now where did I put all that extra time I was saving up for just such an occasion??
Disclaimer: I was provided a free trial of the product in exchange for my genuine and unbiased review.