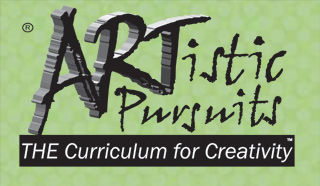 This is another review that I could have written a long time ago. We love, love, love ARTistic Pursuits! In this particular post, I will focus on the Senior High Book 1, which we had the privilege of reviewing.
ARTistic Pursuits is a wonderful art curriculum for several reasons. Mom likes it because there is little mom-prep and because there's a whole lot of information packed into each lesson. Students like it because it is engaging and challenging. Students at this level (and earlier) work on their own for the most part. We went over the art appreciation and art history concepts together, but that's because I enjoy it, too. The projects give the student lots of room to make choices in subject matter, but also lend enough focus to make the task challenging and rewarding.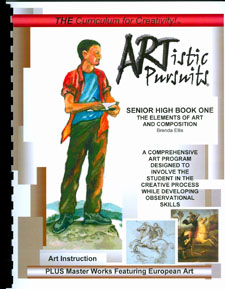 There are so many great features in this book. Students learn vocabulary, art appreciation, art history, techniques, and practical application. Students are encouraged to develop their own unique personal style in their artwork. Students are taught to focus on one principle at a time in their artwork in order to practice it in a methodical way.
This book has a particular emphasis on drawing skills. Students are introduced (or, if they have used other ARTistic Pursuits books, re-introduced in greater depth) to the elements of art and principles of design. Each unit teaches one element or principle. There are four lessons in each unit, and the student is encouraged to spend at least one hour two times per week on art. If your kids are anything like mine, you won't need to cajole them into working on their artwork. In fact, if you are like me, you might even be tempted to use it as incentive to get other not-so-fun work done.

Each unit also introduces famous pieces of art by famous artists that illustrate the concept being taught. The cultural background of each piece is explained, which I find is a wonderful complement to the true study of any piece of art. Basic information about the artist is also presented.
One other nice touch these books have is that they include lots of examples of student work. Each unit has several pieces of art in the "Student Gallery", which my daughter found quite encouraging. It was nice to see how other students her age interpreted the lesson objectives and then found ways to express their personal style within the framework of the assignment. This being a senior high book, information about class credits is also included and is extremely helpful to homeschoolers.
Hannah has asked that I not share any of her artwork for this review, much to my disappointment. She still finds it very personal. So, to respect her wishes, I have instead included images of actual pages of the book, which may be found on the ARTistic Pursuits site.
Each AP book is priced at $42.95. Included in each book is a list of materials you will need to complete the assignments. You may purchase this or any of the other ARTistic Pursuits books directly from their site. This is the fifth AP book we own, and I love them all. I highly recommend them for all your students – not just the "natural" artists. Everyone can and should learn the elements and principles of design.
Disclaimer: I was provided a free trial of the product in exchange for my genuine and unbiased review.