BigIQkids is an online learning environment for children in grades K through 8. The learning concentrates on four core content areas: Spelling, Vocabulary, US Geography, and Math. They do offer free versions of the program; I was asked to review the premium version of the site.
I had Wendy and Patrick working through all the subject areas of the site. Kids are able to earn coins for completing daily lessons in each subject area. They are then allowed to play educational games in exchange for those coins. My kids enjoyed doing the lessons and enjoyed playing the games with their coins.
The program is fairly flexible; mom can modify any of the lessons, including being able to customize spelling and vocabulary lists. Another aspect that I found very helpful was that all the instructions are available in audio. There are two guides throughout the program – one girl and one boy. They give verbal instructions and help along the way. That's nice since I was able to let the .blessed-dyslexic and Wendy go it on their own. I didn't have to sit by their side the entire time to make sure they could read the instructions. I also appreciate that I am able to change the lesson length – the default number of daily math problems in 50, which I think is way too much for either of my students. So, I changed it to 15 and 20 questions per lesson. Also, I was also able to change the spelling and vocabulary lessons to incorporate words that we are learning in history and science.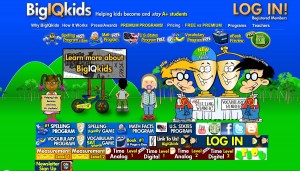 There are advertisements on the site, which I found a bit confusing at first – was I supposed to click here or there?? Once you get used to it, though, it's no big deal. Also, the voices for most of the lessons are automated – a bit robot sounding, but the kids didn't mind. And that's what headphones were invented for, right?

BigIQkids helps mom keep track of each student's progress via email and cumulative reports. Along with percentage of correct answers, the report contains other helpful information like total time for completion and average time per question.
Again, my kids really enjoyed completing their lessons online, and I enjoyed the fact that they could be independent. I would like to see more Phonics based content in the future – and maybe some science and history.

BigIQkids offers a premium version of their site for only $99 per year. With that, you get unlimited access to all four of the programs with fewer advertisements. You may sign up by clicking here.
Disclaimer: I was provided a free trial of the product in exchange for my genuine and unbiased review.