KinderBach is a great online music program for younger children. Kids learn at their own pace by playing games and completing fun activities.
Wendy, as you all know, is "ma Belle Chanteuse" – she has been taking voice lessons for almost a year. Reviewing KinderBach has been a great way to introduce some piano playing into the mix to round out her music education.

The KinderBach program focuses on six areas of music development: ear or listening skills, sight or note reading, rhythm, hand position or technique, singing, and composition. Kids are taught skills in each area and are encouraged to develop those skills in several ways. Best of all, KinderBach does all of the teaching – mom (or dad) just needs to be there for reinforcement.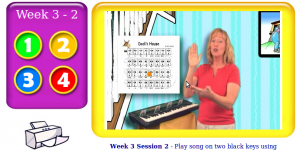 Before kids are encouraged to play their first song, they are taught various aspects of music that make playing any instrument easier. Students learn things like rhythm, note identification, note placement, and music patterns. KinderBach teaches through engaging videos and fun activities that incorporate fine and gross motor skills. There are 60 weeks of instruction with 4 lessons each week. Parents are strongly encouraged to watch each lesson with their children the first time it is presented. After that, the children are encouraged to watch each video lesson as many times as they will. What this means is that there is going to be mommy "teaching-time" involved in using this program. Having said that, though, there is very little prep time involved, so mom gets to have lots of fun while the kiddos learn how to read and understand and play music!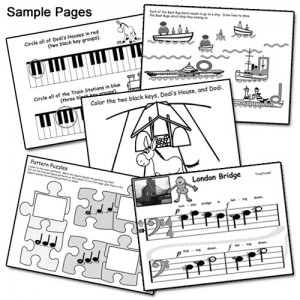 Did I mention that you as the parent don't have to know anything about music or playing an instrument? Well, you don't. KinderBach does it all for you. Also, it just makes sense that this program is better suited for young learners than conventional lessons. With this program, your children get a lot more exposure to actual learning – 4 sessions each week instead of one lesson. The built-in reinforcement is crucial when they are young. Plus, they will enjoy it – my kids did!
KinderBach offers an online subscription as well as a DVD teaching set. There is one price for each no matter how many children you plan to teach with the program. If you have several young children as I do, then that is a great deal! An online KinderBach subscription is as low as $7.99 per month – compare that to the $100 per month we (can't afford to) pay for Wendy's voice lessons and it's a no-brainer. Great music education at a great price!
KinderBach also has plans to expand the learning with online games and songbooks. They are in development, but they haven't revealed the launch date for those parts of the program yet. Certainly sounds exciting!
You may purchase an online subscription or the DVD set directly from KinderBach. Check out their site for a free trial and free samples of the activity books that correspond to each level of the program. Also, there is a parent forum and lots of questions answered directly on the KinderBach site. Have fun and be musical! It's definitely a skill your children will have for life.
Disclaimer: I was provided a free trial of the product in exchange for my genuine and unbiased review.