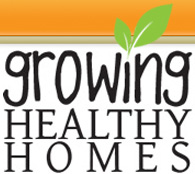 Growing Healthy Homes is a company made up of moms who want to help other moms learn how to feed their family in accordance with God's plan as outlined in the Bible. What a great mission! Nutrition101 is a main component in this mission and is a wonderful addition to your homeschool day.
Nutrition101 teaches families all about the major body systems and how they function. The book also presents information about health issues that are associated with each system and how to make wise food choices to keep them functioning well. The book is basically a whole health program in 400+ pages.
There are six units, each unit focusing on a certain system of the body. Within each unit, there are four chapters, so 24 chapters in all, which will fit in nicely with most homeschooling schedules. The book outlines a sample week to help you get the most out of each chapter. Activities are included for each chapter plus discussion questions, lots of checklists, shopping lists, nutrition information, and food charts.
We had lots of fun learning about the different body systems. We also had fun learning basic nutrition principles and discovering how God has provided for us yet again a perfect (and simple) plan. The recipes are great – even for my picky eaters – and the .pengwendolen had lots of fun helping out in the kitchen. You won't regret teaching your children (and yourself!) the incredible benefits of making healthy food choices, and the book can be studied again and again and in greater depth each time.
Nutrition101: Choose Life! Is priced at $99.95. A CD-Rom version of the book is also available as well as a book/CD combo. With all the recipes and charts and information, I suggest buying the combination. If price is a big issue, though, you could get by with just the CD-Rom version. You may purchase any version you wish directly from Growing Healthy Homes. Enjoy!
While you're at the site, check out some of their webinars and free downloads. You will be glad that you did!
Disclaimer: I was provided a free trial of the product in exchange for my genuine and unbiased review.