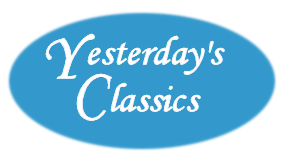 Yesterday's Classics republishes "classic books for children from the golden age of children's literature, the era from 1880 to 1920." Fortunately, our family discovered Yesterday's Classics several years ago and has been reading these wonderful books since.
These books really are wonderful. But now something else is wonderful, too – Yesterday's Classics is offering its entire collection in Kindle and EPUB format! Now I can take an entire library of great children's books with us wherever we go – and I do. We read all over the place, and when the children get older, I can see them each with their own Kindle so they can take books with them wherever they go (we LOVE my Kindle in this house!).
Yesterday's Classics books are great, and there are enough to keep even a voracious reader busy for some time – 225 so far in Kindle or EPUB format. There are several reading levels and genres – from fairy tales to history to science and back again. Each book is a reprint of a classic title. I am a confessed book junky. I own several thousand books. I also own a Kindle and several hundred (at least) books in Kindle format. Believe me, then, when I tell you that the ebook version of the Yesterday's Classics titles are extremely well done. The books take advantage of all the Kindle has to offer in the way of screen resolution and text resizing. Also, the books offer text to voice, so even my .blessed-dyslexic can read along!
As I mentioned before, we have used Yesterday's Classics books in our homeschooling for the last several years. Each book we have read so far has been wonderful – and kid friendly. I don't have to censor them much, which is a blessing. I also know that they aren't tainted by "new" history teachings and a progressive agenda. Plus, Tapestry of Grace uses lots in their recommended readings, so we really get our money's worth.
Thanks, Yesterday's Classics, for offering these books in Kindle format – and for making them accessible and affordable!
You may purchase individual titles directly through Yesterday's Classics, prices vary. Right now, though, they are making an offer that is not easily refused. Yesterday's Classics is offering ALL 225 of their books in Kindle or EPUB format for $99.95! That's much cheaper than purchasing each title individually, let alone buying each title in hardcopy. The great thing about this offer is that you can use all of these books even if you don't own a Kindle or EPUB reader – the Kindle reader app is available for your PC for free! What's not to love?!
Disclaimer: I was provided a free trial of the product in exchange for my genuine and unbiased review.