.handsome-will had his dental surgery today. He had no idea what was going to happen, and I am thankful Pat and I decided on that course. He was skipping and playing and being his normal self. The ONLY issue we had was that he didn't want to put on the hospital gown when it was time. Pat convinced him, though, that it was very "fashional" to wear hospital-issued duds. I have to say that all the staff we encountered today made this whole thing much easier – they were all kind and helpful. Plus they let us know how things were going during the surgery.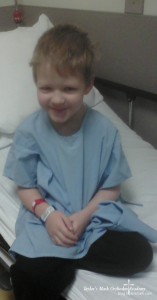 Will ended up having 5 teeth removed, one baby root canal, 5 crowns and one filling. That sure is a whole lot when you consider how very young he is. I must admit that I was extremely anxious when I woke up this morning – and during my prayer time God was merciful enough to send His peace upon me. He gave me several small signs that made me know His presence and that He was indeed in charge. God is merciful. God is great! Thank You, God, for preserving my baby boy today during this procedure. Thank You for steadying the doctor's hands and for guiding him while guarding Will.
I would also like to take this opportunity to thank God for the generous and kind friends He has sent our way. Thank you, Renea, for keeping two of my other treasures today while I had my hands full with the littlest one. It was reassuring to know that Wendy and Patrick were being well cared for today. Uh-oh, I think I hear the Tooth Fairy!