I was talking with a friend a couple of weeks ago. She is someone I've met since I stopped writing for my blog. She told me that she found this blog, read it, and, best yet, enjoyed it! That was (mostly) the nudge I needed to get back to business – so here I am – 'Once more unto the breach…'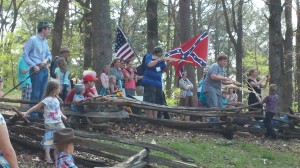 For my dear Patrikios' birthday, we took him on a history tour conducted by Landmark Events. It was fabulous! We learned about the Battle of Kennesaw Mountain and some of the other Civil War events that took place in our neck of the woods. We had been to Kennesaw Mountain before, but Mr. Potter shares such a providential perspective with his listeners – no spin, just facts about the people who actually lived the history. Patrick had a blast and is looking to do more with Landmark Events. Even .handsome-will enjoyed himself (somewhat!). Check out the pictures.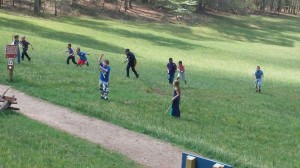 What could be better than a reenactment with wooden guns?? Even the Pengwendolen was sorry that she didn't participate.
The tour was two days – the first spent in Marietta, the second at the Cyclorama and the Capital. We are proud to be from the great state of Georgia – the Providential hand is so evident in its history. Pat and I dearly want to hand down to our children the ability to glimpse the Hand of God in this great state's and this great nation's history. Man makes mistakes, but God doesn't. And those who "cannot remember the past are condemned to repeat it."