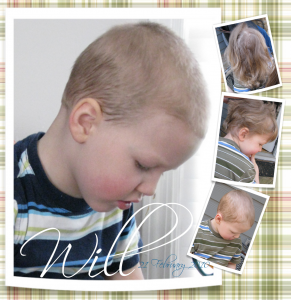 Well, our youngest has lost all his curls – but I haven't! Will wanted a haircut like Patrick's, so mom and dad finally gave in on haircut day. I kept the curls, though – they're all safe in a Ziploc that's going to stay with me for a long, long time.
What a cutie! Patrick was so happy to have someone else's head to feel – he chased Will down to pet him.

What do you think, Aunt Paula?