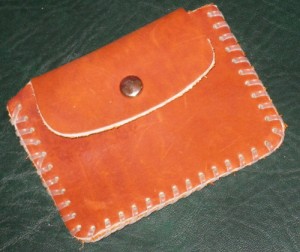 My blessed dyslexic got to make his very own leather coin pouch. We got a kit from Corps of Re-Discovery that had all the tools he needed. This was a great project – it didn't take very long and it certainly was stress-free for me.

The finished coin pouch measures 4" x 3" and is perfect for holding all of Jr.'s tiny treasures – specifically his pirate coin! The instructions were very easy to follow – I was only called in to start and finish the cord; Patrick did all the lacing himself.
Corps of Re-Discovery sells several different kits that focus on projects from early American history. We plan to try some of the other projects they offer – like the Arrow Kit and the Necklace Kits. All the project kits are reasonably priced.
The only addition I would want to make to the kit would be information on the history behind the object you create with the kit. I know there are lots of books with that information available (most of them probably already in our homeschool library!), but it would have been nice to have a little information sheet included so that I could read it to the children while Patrick was making his pouch. Not necessary, but a nice-to-have.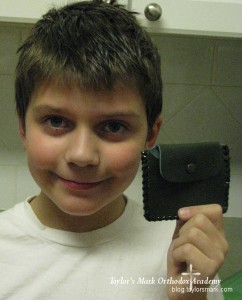 Disclaimer: I was provided a free trial of the product in exchange for my genuine and unbiased review.