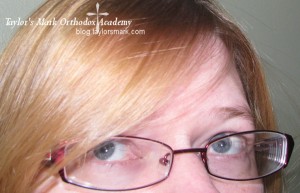 These are my new glasses. Like 'em? I sure do.
These are my super, wonderful, beautiful, bestest Christmas present from my super, wonderful, beautiful, bestest friend ever – Dr. Susan! I kept putting off having my eyes checked and getting new glasses, so Susan insisted that I get it done. There just always seemed to be something more important to do with the money – even though it has been over four years and I was having headaches. Dr. Susan fit me in her schedule and got me all set up. Thank you SO much, Susan – I can actually see again!

And what, pray tell, did I get Susan for Christmas? Nothing. What are you supposed to get for someone who has it all? I mean, seriously, Susan, what could you possibly want? I do have something nifty in mind, but it's going to take some sneakiness (which I can borrow from Wendy and Avery) and some craftiness. Stay tuned…
Thanks again for everything you do for me, Susan – you are the bestest gift!