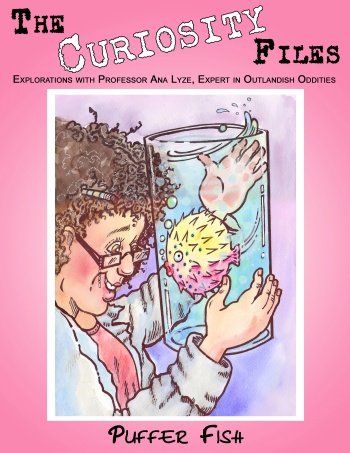 The Curiosity Files is a series of tremendously fun unit studies. We went with Professor Ana Lyze, expert in outlandish oddities, on a study of the puffer fish. What did we learn?
This is a complete unit study; all the subjects are covered from math to history to grammar. And they're all covered in a fun way. I have always thought that it would be fun to teach my kids with just unit studies, but the work in putting them together is daunting. The Curiosity Files are all done for you – and they are complete. In the Puffer Fish study, the kids have to convert from American money into various foreign currencies. They also work with measurements, ordinal numbers, and elapsed time.
History is covered by several historical facts and a geography lesson. Grammar, creative writing, and spelling are all taught in the context of the study of puffer fish. Science pervades every page. And just for good measure, art and music are thrown into the mix. So, you have a complete unit study on an unique and interesting topic.
The kids enjoyed learning all about the puffer fish. I enjoyed that there was no call for teacher prep, besides checking out some books from the library. The study comes complete with live links to online information, book lists, and lapbook components. Once the lapbook is put together, the kids have a hands-on review of all the information they gathered from their study.
Links to online information and videos are included in the study. As with all things online, it's a good idea to check them out yourself before you turn the kids loose – just to make sure. We had fun watching the videos of puffer fish puffing themselves up. Do you know how they do it? I'll give you a hint – it's not air!
One aspect I greatly appreciate about these studies is that you don't have to buy any other books to go along with the unit. Lists are included, but they are for extra reading. You have all the information you need to complete the study within it. One other aspect I greatly appreciate is that the study is leveled for youngers and olders. There are suggestions and assignments for each level – so we can all learn about the same subject, but on our own level. Wonderful.
You may purchase your Curiosity Files unit studies directly from The Old Schoolhouse Store. Right now, four of the units are even on sale for $1 each – you can't beat that price for a complete unit study! There are several topics to choose from – and they are all outlandish things. Why not check them out today?
Disclaimer: I was provided a free trial of the product in exchange for my genuine and unbiased review.