The Reluctant Reader Solution is a fantastic way to get kids excited about practicing their reading and composition skills. There are two parts to the program: FunSheets and an online monthly newspaper. Both parts of the program are easy to use and easy to fit into your already over-crowded homeschool schedule. Plus, with all the fun they're going to have, your kids will ask you if they can do their work!
There are 59 FunSheet sets, one for each week of the year plus 7 extras. Each FunSheet set focuses on a single topic, such as butterflies. Information and all sorts of puzzles and activities are included in each set of FunSheets. The kids will learn as they enjoy working various word puzzles, math puzzles, and other activities. The kids are asked to use critical thinking skills in order to solve the puzzles. They are also asked to proofread a passage and write a composition of their own based on the week's topic.
Although I am sure that each family will find their own way to use the FunSheets, there are two basic suggestions by Kid Scoop – chronologically or topically. Either way, you use one sheet each day, spending a week on each topic. We spent a week with butterflies. We already know bunches about butterflies, but it's a topic we revisit each year. We reviewed what we already knew with the information provided in the FunSheets plus we learned some things we didn't know. And, of course, we had lots of fun completing the puzzles and coloring the pictures. We worked on critical thinking skills, math, grammar, composition, vocabulary, and of course science. All in a succint and fun manner.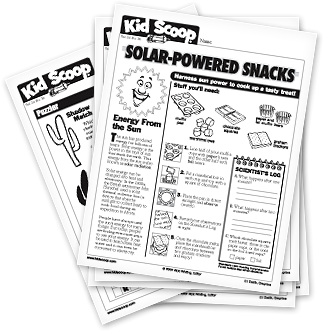 The second part of the program is the online monthly newspaper. The newspaper is very colorful and packed full of even more puzzles. I let the kids work on the newspaper as they had time – we didn't incorporate it into our school day as we did with the FunSheets, although we could have. The articles are short enough and diverse enough to get even your most reluctant reader excited about reading. And the mental workout the kids get makes it all the better.
Visit the Kid Scoop website for samples of the FunSheets. The Reluctant Reader Solution, which includes 365 of the FunSheets and a 12 month subscription to the online newspaper, is priced at $97. As another option, you may purchase each topic as an individual download for $2.99 each. You may also purchase topic bundles – bundles of six sets of individual topic FunSheets for $14.99 each. Kid Scoop also offers free reading tips by email. Click here to sign up – you'll get a new reading tip each day for 30 days right in your email.
Disclaimer: I was provided a free trial of the product in exchange for my genuine and unbiased review.